Good Morning Princess Leia,
Last night Mommy met her girlfriends for "First Tuesday," to catch up and be together. One friend is turning 46, one is due to have a baby within the month, and one will be trying to get pregnant with her wife within the month. So they have a lot to talk about. You and I stayed at home and played Star Wars, read from your new favorite Disney Book, and fought with each other going to bed.
Even though you come home from daycare with dark circles under your eyes, you experience a wave of energy in the evenings right about the time when Mommy and I feel you should be in bed. Instead, you urge us to "set the timer" for another 5 minutes, read another book, or try to delay the trip upstairs for pajamas, brushing teeth, and the good night song.
What you're doing these days:
We've spent many weekends at the cabin this winter, which matches what Mommy's dream of the place has been. Of the nine times we've been there, only one has been just the four of us. We've hosted Gaga and Grandpa, Mark, Melissa, Connor and Ashlan, Denny, Rachel and Eliza, Chris, Maria, and Maisy and Noa, Linda and Hilary, Ray, and Lori, Denton, and Lira. It has been fun to see you play with the kids who have been there, finding fun activities to match what both your ages can do. Everybody has enjoyed the snow. My favorite was the bobsled run the Carney's made with us on the weekend they visited. It started with a short sled track that lasted no more than a second to an epic 35-second multi turn, take-your-breath-away thrill ride that started way up behind our house and ended in the front yard! Here's a video of it.
Your crying fits as I leave you off at daycare have lessened as late. For several weeks after the holiday break, you wouldn't let Mommy go as we left the house, clinging to her, insisting on one last hug and kiss, and pleading with Mommy to wave to us as we left. One day, on the bike, the sendoff went well with no crying, but then when you felt Mommy didn't wave long enough to you as we left on the bike, you erupted in tears that lasted most of our ride. Then, you were in a low state of emotional fragility that when I left you at daycare, you screamed and cried and stayed in the corner of the room for several minutes. When I went to paren-teacher conferences, your teacher asked me to sign up for another time slot so we could discuss what was happening! I did get a bit defensive, but they had open hearts about it and I did get some good ideas to try. We had some Moms rooting for us, letting me know that when they saw you in the classroom, you were playing, laughing, and having fun, not even showing signs that you had been inconsolable 5 minutes before.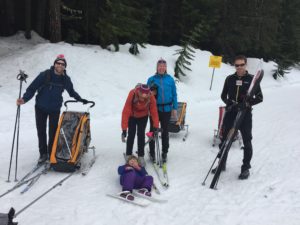 You're more into movies now. We've shown you Charlotte's Web, Mary Poppins, and a few more Star Wars clips. You watched the entire Aladdin movie with Noa and Maysie, and Home and Annie with your cousins Nate and Avery. We've been signing Chin Up from Charlotte's Web and I Want it Now, the song Veruca Salt sings in Willy Wonka and the Chocolate Factory. "Salutations," is how Charlotte introduces herself to Wilbur the pig.
In my life these days:
I'm working through the Spanish lessons in Rosetta Stone. The educational units help me learn new aspects of the language, practice speaking and reading, and help me to be more comfortable speaking with the teachers at your daycare. It is no immersion by any means, just a few minutes each day, but it is something. I'm hoping to be done with the course by the time we vacation in Costa Rica in June.
I worked hard to deliver another interesting track on Gentrification at my school's 5th Annual Social Justice Day. This year I worked with Emma and Moses; we took 15 students to the now-gentrifying Central District of Seattle. Read about that here.
Following the Seattle City Council's decision, I've decided to divest from Wells Fargo Bank because they are a major lender in the Dakota Access Pipeline. I felt badly that I did my banking with Wells Fargo, who is a major lender of the project, and who also has been under scrutiny in recent months for allegedly coercing clients into opening bogus accounts for its own financial gain.
In the next month I'll be speaking at two conferences on Math and Social Justice topics. NCTM meets in San Antonio on April 5-8. There I'm presenting Engaging All Students: Math in Art, Technology, and History on my own as well as co-presenting Calculated Change: Social Justice in the Mathematics Classroom. I'm pumped to have this opportunity, as well as work at a school that helps me fund the trips. One of my main efforts in the last two years has been to insert more justice/equality oriented topics and skills for students in my classes. Math is not a neutral subject for me; it shouldn't be taught apart from the real world. So I believe Math teachers should equip students with the tools to understand and speak intelligently about the complexities of the world.
I'm also trying out to represent the Seattle Grandmasters Ultimate Frisbee team this summer at the National Championships. Tryouts have been happening the last few weeks. I find out if I make the team in mid-April.
In the news:
March Madness 2017 has started. After todays games, the final four will be set. . I picked Duke to win it all in my CBS online bracket, but they have already been beat. The Gonzaga Bulldogs earned a spot int he Final Four last night with a win over Xavier. This is Gonzaga's first trip to the D1 Final Four.
The Affordable Care Act survived an attack from the trump administration last week when the scheduled vote was postponed due to lack of support for overturning the ACA.
There have been many protests throughout the country lately: for US immigrants, education, and in opposition of executive orders and Trump nominations. Your daycare participated in one on Dia de los Immagrantes. Though I fully support the concern of immigrants, muslims, and minorities who have been the subject to targeted action, I'm not convinced you should be marching, little 3 year old. Nevertheless, Mommy and I kept you in daycare on the day your teachers decided to have a "little march" around the block.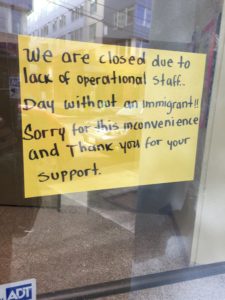 A summary of a book or podcast I liked:
The Martian Chronicles by Ray Bradbury. I remember reading this book in high school, as well as seeing the movie many years ago, so I wanted to read it again. It was originally published in 1950, but what was eery for me was that many of the scientific elements of the novel could still work as futuristic in 2017. The book was originally released as separate stories that Bradbury eventually loosely stitched together to sell as a single novel. I was fascinated by the descriptions of Mars and the repeated attempts at colonization of the planet, but there wasn't much of a central character or theme to keep me engaged and vested through the book. In the end, the part I remember seeing from the movie was over in one of the first chapters, then it got too scattered for me.
She's Not There by Jennifer Finney Boylan. The author grew up as Jim Boylan, but from as long as he could remember knew that he did not belong in his body, and longed to be a girl. Jim suffered through adolescence and adulthood, hiding his desire, crossdressing, and feelings from everyone in his life. He was married, had two children, and was a beloved professor at Colby College for several decades before he got the courage to start transitioning into a woman. I had never read anything from a trans perspective, so this was enlightening to me. I felt uncomfortable with the author as she described uncomfortable encounter after another with people when she wasn't quite herself. I especially enjoyed hearing how Jenny's immediate family dealt with her change. This book is the first best seller written by a trans person.
That's a wrap, little one. It feels good to finish a post. Hugs to you and happy spring,
Love, Daddy