Happy September, Little Charger!
After 70 days or so of sun, Seattle now is getting sprinkles. Summer is over, but it has been a fantastic one. We're gearing up for your FOURTH BIRTHDAY soon, which you have requested to be giraffe-themed. But before you turn four, let's review what has happened in our lives in June, July, and August 2017.

The latest 1 Second Everyday Video:
June 2017: Graduation at school. I hosted a Math Department End-of-Year Dinner with games. My Grandmaster Ultimate team won the regionals, which earned us a spot at the National Championships in Denver in July. It was a contentious game, with lots of bickering and shouting accusations, which started with a foul call that I made as I tried to defend a pass in the endzone. Nana and Poppop visited on the last weekend of school. We took them to the cabin and Lake Wenatchee for the first time. They also met your teachers at school. We had a family dinner with the cousins since Mark, Melissa and family were about to leave for Europe for the summer. The last week of June we left for Costa Rica.

At the end of June, we met Misun, Stephen, Lillian, and Little Stephen in La Paila, a house up on the hill overlooking Samara bay in Costa Rica. We had some excursions to a macaw sanctuary, surfing in Nosara, and short trips down the hill into Samara for beach time and food, along with many hours in the pool, playing chess with Little Stephen, and talking with Marilou, the caretaker/chef of the property. You wouldn't leave 12-year old Lillian alone, always wanting to be with her and take up her time.
In July, we returned home and had a 4th of July cookout at the Carneys in Seattle. I played two days at Potlatch, the big ultimate frisbee tournament in Redmond, and took you along. You played around a little, getting more red there than in Costa Rica, but you mostly stayed in the little tent watching movies. That was fine because I got to play and Mommy got some time off. Many of our days were spent eating breakfast together and then biking to school. I would come home to work on the patio or go to school to do some planning. Gaga, Grandpa, and the Indy Peabodys came to visit us for for a week, so you got lots of good cousin time, especially on Whidbey Island. Though your cousins and grandparents went back to the Midwest, the vacation continued when you and I flew back to IL for the first Peabody Camp.
I flew with you to Chicago where Gaga and Grandpa picked you up for a week of fishing, baking, driving the play car in the garage, and more playing with cousins. During that time, Mommy and I met in the Canadian Rockies for our kidless trip in Banff and Canmore, Canada. We kept trading pictures with Gaga throughout the week of our separate adventures; as we hiked around Lake Louise, biked in Canmore, and drove up to the Columbia Icefield, you were visiting the library, coloring, and tending to the garden out in the orchard.
Mommy and I came to IL to get you. I got to see my good friends Wayne and Chad and you, Mommy and I made a visit to see Grammy Dorothy.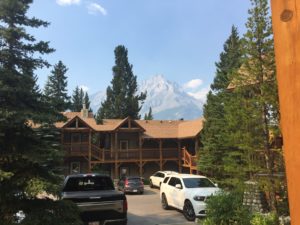 Here's my 1 Second Everyday video for July 2017.
In August, the fun, and the guests, kept coming. Anita and Mack stayed with us on the ends of a hike around Mt. Rainier, Ray visited for a day, and Mark moved in to our spare bedroom. While Connor, Ashlan, and Melissa were able to stay more in Spain, Mark had to return to work and couldn't go back to his house that they had rented until the end of August, so he lived with us! We celebrated his 40th birthday with an ice cream cake and the Petersons. We also saw your cousin Christiana and her Milman family. We started having many dinners out on the newly-finished patio!
My big summer project this year was to transform our backyard into a usable space. There used to be an area of wispy grass and pine needles. Now most of the backyard is paved with 2′ x 2′ concrete squares, laid down with care and urgency. It was a family endeavor, you shoveled a little, Mommy liked operating the gas-powered tamper, and I employed Uncle Andy and Grandpa when they were visiting. We finished the space by planting some bamboo, a Japanese maple, and another leafy-green species that will survive in our climate. I am very proud of the product and happy that it was finished before school started.
September 2017
What you're doing these days:
Every time we're in the car or on the bike, you're asking for a story. Earlier in the summer you wanted nothing but Star Wars, but now you're more into animal stories, and particularly animals that are mean and get locked up for some reason. I'm trying to forget those requests and steer your toward more gentler requests. One of my favorites was when you wanted the story of how Darth Vader and Boba Fett fell in love.
Mommy and I have been reading you stories from your favorite Costco Disney book for some time now. We both knew it was time to get some new bedtime stories when you told Mommy, "I only take orders from Jafar."
Late in the spring you were going crazy writing your names, first and last, but lately you haven't been interested in writing at all….just scribbling. You can count to 30 pretty well, with a little glitch at 15, and you do the same in Spanish. You are aware that there are weekdays and weekends, Thursdays are when Date Night happens, and Friday's are Show and Tell, but you aren't able to rattle off the days of the week yet. And worse, you get up earlier on the weekends and shuffle into our bedroom still way before you need to.
You still are loving reading books; I read you Calvin and Hobbes much of the summer and you like Smurf books now. You seem to be ok with any kind of kid book except non-fiction.
When we play hide and seek now, you understand that there is a hider and seeker, but you don't get the counting to 20 part yet. When we played at the zoo the other day, I asked you what I was counting to and you said, "six and a half minutes."
You seem to like your new classroom, though I signed a behavior report on Friday acknowledging that you scratched another classmate on the neck when you weren't sharing….probably one of the toys you took for Friday's show and tell.
We are able to play games with you now like Candyland, Go Fish, and Sequence, but you cheat by picking the cards you need at all those games, and you delight in telling us that you are winning and we are losing.
Favorite quotes from you.
"You have Boo breath, Daddy."
"Can I have a courtesy flush, please?"
This dinner conversation just happened in late September when Mommy was gone for work in DC.
Me: What else would you like for dinner, Sweetie?
You: Daddy, can you peel this orange for me?
Me: Sure.
You: Just get it started so I can tear it off.
Me: Ok.
You eats most of the orange, then…
You: Can you take this vagina out?
Me: Do you mean the navel? This is a navel orange.
You: No. I mean the vagina part.
Me: I'm pretty sure you mean the navel. See; it looks like a navel, which is another word for a belly button.
You: No; that's not what I mean. Don't argue with me!
A recording: Here's a listen to you from September 2017. You and I are roughhousing while Mommy is making dinner. I chose to save this moment because on the morning of this day you were inconsolable. When you woke up, you yelled for Mommy to come to your room, but Mommy was getting ready in our bathroom. Instead of running into our room like you usually do, you anchored yourself by your bedroom door and wailed for her to come get you. It was quite a standoff: you wailed and cried, Mommy yelled back at you that she was getting ready and you could come visit her down the hall, and I was downstairs finishing walking and giving Boo her breakfast. When Mommy finally got you dressed and downstairs, you continued your whining and whimpering through our breakfast, barely eating and giving me icy stares saying, "Don't look at me, Daddy," or scooting down the bench away from me when I sat down next to you in my regular seat to have my cereal. Mommy even started singing her own song, "Oh….today was a lovely morning. I will probably need 3 cups of coffee today……What a treat it was to wake up to this….."
Where was I???? oh yeah…..I chose this clip because our roughhousing was making you snort and giggle so much that I wanted to capture it to erase my memory of how that day actually started.
You can be sassy, but you are mostly charming, funny, and caring. Every day when I pick you up at daycare, you make a point to stop by your old classroom and say hi to Vicki and Minerva, your old teachers. You hug them
In my life these days:
School is back in session and I'm busy planning lessons and managing the Math team. I'm playing ultimate as often as I can; mostly with my year-round co-ed team Vince who I've been with from the beginning.
This is my 10th anniversary of being in Seattle. Back in August 2007, Grandpa and I made the cross-country Penske Truck trip from Watseka to Kirkland as I relocated from living in the Dominican Republic.
In the news:
This section is the last part I choose to fill out because it is depressing to me. A few weeks ago, a lone gunman opened fire over a music festival in Las Vegas that killed 58 people and injured hundreds. The man's motives are still unknown, though it is pretty clear that he did not have any ties to terrorist groups or ultra-religious groups in the US or abroad – he just wanted to create terror and then kill himself. There was a surge of outrage and calls for gun control measures in Congress and on social media, but nothing big has come of it yet except a minor restriction on the bump stock, a device the gunman used that allows a weapon to fire repeatedly without pulling the trigger.
I read a lot about this massacre, called the "deadliest in US modern times," though some have pointed out that there were worse massacres of African-Americans and Native Americans in our recent past. I had nightmares about it days after it happened – helpless dreams where I try to speak but can't or try to run from something but keep slipping. I still run through escape scenarios in my head when I'm at a public gathering or picking you up from daycare. It is horrible, but it is reality, and I feel powerless against the hate and bigotry that seems to overpower the opposite in our world. I'm not looking forward to the day when you ask me and Mommy about events like this, wanting to know why. We won't have an answer for you.
The solar eclipse on Monday, August 21st was pretty cool. Several of our friends/colleagues drove down to Oregon to be in the Path of Totality, which for about 2 minutes, was a once-in-a-lifetime experience.
A summary of a book or podcast I liked:
Born a Crime, by Trevor Noah. Trevor Noah, the Daily Show host who replaced John Stewart, had a unique childhood. Born under apartheid to a black woman and Swiss (white) man in the 1980s, Trevor was "born a crime" because sex between different races was an egregious crime. Trevor recounts zany-scary events of his youth like being thrown from a car, having his poop demons exercised by the women of his village, and going to several different churches with his Mother on Sundays. I recall news about Nelson Mandela, the apartheid abolisher and South African savior after apartheid, but I was not aware how inhuman and premeditated the racial oppression was during the years of apartheid (literally "apart hate"). The book was funny in the way Trevor exposes the glaring hypocracies of the systems in which he grew up, religious, social, and political. Then he adds his own humor. I can't believe he made it out of the system, can't believe his Mom's integrity and perseverance, and I can't believe what I read about the calculated establishment of a system of racial segregation, oppression and dominance by force that existed in my own lifetime. I suppose I have much to learn about the world out there and need to emerge from my own Seattle echochamber. We discussed this book at school and the librarian offered a perspective by stating, " Cecil Rhodes is our Hitler."
Time to wrap up, Miss Three and Three-Quarters. It is early in the morning and it is time to start the day. Love and hugs to you…
Daddy